Remembering 50 Years of Pride
by Jax Keating, Kim Bevington, and Christine Bryant Cohen
At Hashtag, all are welcome (if you're over 21 and have the necessary ID), and all are loved, every day. We hang our Pride flags and our Trans Pride flags next to our Black Lives Matter signs in our Fremont and Redmond stores all year long. We welcome and celebrate our own queerness and your queerness all year long, too, and the day and weekend of Pride itself deserves special remembrance.
Pride, 50 Years Later
Pride is celebrated on June 28 because the Stonewall Riots in New York City began on June 28, 1969, arguably marking the beginning of the gay rights movement. Now, in 2019, we remember 50 years since Stonewall, and we remember the activists and communities who began and never gave up on the fight for gay rights—and we remember how those same queer activists and communities, especially the community of people with AIDS (PWA) and those who support PWA, played a very significant role in the beginning of the medical marijuana movement in the early 1980s during the AIDS epidemic.
In memory of
Marsha P. Johnson,
1945-1992
Marsha P. Johnson has been praised for her insistent calls for social and economic justice; for working on behalf of homeless street youth ostracized by their families for being gay or otherwise, not conforming to traditional ideas about gender, and later, for her advocacy on behalf of AIDS patients. She was also an AIDS activist, attending protests by and meeting of ACT UP, the AIDS advocacy organization. Johnson joined Sylvia Rivera in founding Street Transvestite Action Revolutionaries, or STAR, to advocate for young transgender people - and, for a time, house, clothe and feed them, from a tenement in New York City. STAR grew out of the Gay Liberation Front, which advocated for sexual liberation and pushed to align gay rights with other social movements. (from NY Times)
In memory of
Sylvia Rivera,
1951-2002
Sylvia Rivera fought hard against the exclusion of transgender people from the Sexual Orientation Non-Discrimination Act in New York, and was a loud and persistent voice for the rights of people of color and low-income queers and trans people. Sylvia Rivera was a veteran of the 1969 Stonewall uprising. Along with the establishment of the Gay Liberation Front, Rivera teamed up with friend Marsha P. Johnson to co-found STAR (Street Transvestite Action Revolutionaries), a group that helped support and empower gay, trans, and gender-fluid youth, in 1970. Today, the Sylvia Rivera Law Project, an organization that "works to guarantee all people are free to self-determine gender identity and expression, regardless of income and race, and without facing harassment, discrimination or violence" continues Sylvia's fight for inclusion. (from biography.com)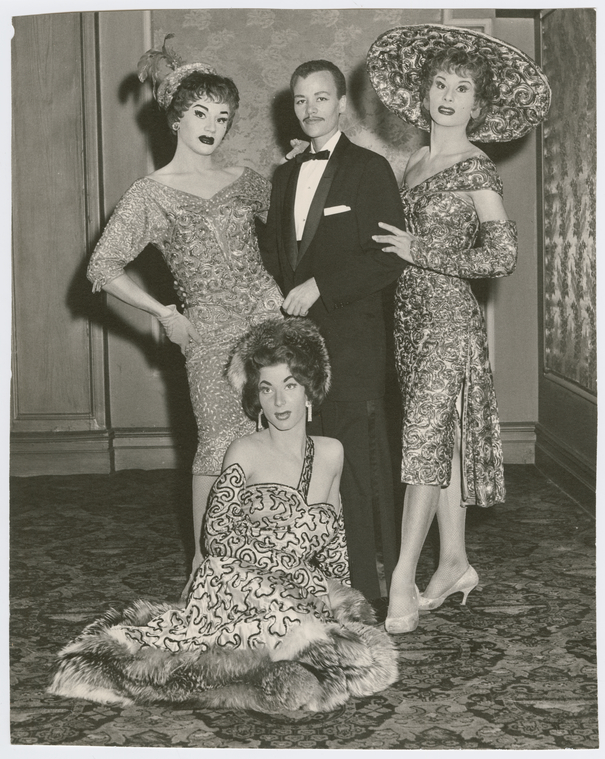 In memory of
Stormé DeLarverie,
1920-2014
photo courtesy of NYPL Digital Collection
Stormé DeLarverie's scuffle with police was, according to Stormé and many eyewitnesses, the spark that ignited the Stonewall riots, spurring the crowd to action. She is remembered as a gay civil rights icon and entertainer, who graced the stages of the Apollo Theater and Radio City Music Hall. She worked for much of her life as an MC, singer, bouncer, body-guard and volunteer street patrol worker, the "guardian of lesbians in the Village." She is known as "the Rosa Parks of the gay community." She was a member of the Stonewall Veterans' Association, holding the offices of Chief of Security, Ambassador and, in 1998 to 2000, Vice President. In addition to her work for the LGBT community, she also organized and performed at benefits for battered women and children. (from NY Times)
The Very Queer History of the Medical Marijuana Movement
from @forwomenwhosmoke
"For the historic 50 year anniversary of the Stonewall Riots and Gay Pride, we want to acknowledge the very queer history behind the marijuana movement. We want to acknowledge just how fundamental LGBTQ and AIDS activists were to creating the inertia that led to the very first medical marijuana programs.
The initial push for medical legalization started in response to the AIDS epidemic. The AIDS crisis was so damaging at the time that people were trying almost anything in an attempt to alleviate these drugs' symptoms. Often the medication prescribed to patients proved to be just as deadly as the virus.
In Susan Maizel Chambre's book Fighting for Our Lives, there's a quote by an anonymous person with AIDS (PWA) where they state, 'You're going to die from the disease one way or another. Anything you can do to prolong your life is worth a try. It's my body. My choice. I can't wait for the FDA.' In the early '80s, it was hard enough to get the FDA to approve a traditional pharmaceutical treatment for AIDS, let alone alternative therapies like cannabis.
The AIDS epidemic first flared 12 years after the catalyzing Stonewall Riots, led by Marsha P. Johnson, Sylvia Rivera, Stormé DeLarverie, Craig Rodwell, and Thomas Lanigan-Schmidt, and only three years after the 1979 White Night Riots in San Francisco that followed the lenient sentencing of ex-cop and ex-supervisor Dan White for the assassination of openly gay SF Board of Supervisors member Harvey Milk and his political ally, City Mayor George Moscone.
Outrage over Milk's murder and White's sentencing would energize a community and make lifelong activists out of many LGBTQ individuals. Milk's assassination sparked the fervent community activism that would eventually mobilize local funds for AIDS care and research and agitate for California-wide medical cannabis.
The very first buyers' clubs, the spiritual predecessors to dispensaries, didn't deal with cannabis. At first they were established as an import and distribution network for bringing promising experimental AIDS treatments in from overseas and circumventing the FDA's lengthy approval time.
The ball got rolling when gay activist Dennis Peron started working with City Hall and the District Attorney of San Francisco. He worked alongside medical cannabis activist Mary Jane Rathbun better known as 'Brownie Mary' (who baked thousands of pot brownies for PWA) and eventually established the San Francisco Cannabis Buyers' Club, which was the first cannabis dispensary in the United States. They went on to draft California's Compassionate Use Care Act of 1996, which was the very first medical cannabis law at a state level."
In memory of
Harvey Milk,
1930-1978
Photo courtesy of NYPL Digital Collections
As the first openly gay politician elected to public office, Harvey Milk will always be synonymous with gay-rights activism. But he was also one of the first American politicians to advocate for marijuana legalization. According to fellow activist Dennis Peron, Milk encouraged residents to protest California's cannabis laws through civil disobedience. He remained active in legalization efforts—including the 1978 campaign for Proposition W, a non-binding policy statement that called on San Francisco's district attorney and chief of police to stop arresting and prosecuting people who cultivate, traffic or possess marijuana.
With Milk's help, 63 percent of San Franciscans approved the proposition. His cannabis activist work lived on in the efforts of Dennis Peron, who co-authored the 1996 petition that legalized medical marijuana in California. (from San Francisco Chronicle)
In memory of
Mary Jane Rathbun,
1922-1999
photo by Scott Sommerdorf
The initial push for medical legalization started in response to the AIDS epidemic. Mary Jane Rathbun, popularly known as Brownie Mary, was an American medical cannabis rights activist. As a hospital volunteer at San Francisco General Hospital, she became known for baking and distributing cannabis brownies to AIDS patients. Along with activist Dennis Peron, Rathbun lobbied for the legalization of cannabis for medical use, and she helped pass San Francisco Proposition P (1991) and California Proposition 215 (1996) to achieve those goals. She also contributed to the establishment of the San Francisco Cannabis Buyers Club, the first medical cannabis dispensary in the United States. (from San Francisco Chronicle)
We are eternally grateful for the activists and communities who fought, and still fight, with their lives for gay rights. The work is by no means over.
We are humbled by the extraordinary work of people with AIDS, and those who support and love them, which created a path for medical marijuana to exist legally, and we acknowledge that we stand in their footsteps as a cannabis retailer here and now.
This Pride weekend, we hope you celebrate however feels good to you. We'd love to celebrate with you, so come say high anytime!