DIY Stoney Apple Pie
by Savannah Hammontree,
assistant store manager of Hashtag Redmond
Warm tones, cooler weather, cozy sweaters--fall is finally here! The arrival of autumn is often accompanied by that all-too-familiar stress of looming holiday parties and social gatherings. Sure, you could bring another store-bought, pre-packaged treat to your Friendsgiving party this year, but why not wow your stoner friends with a dessert they'll remember (or forget, depending on how potent you want it!)?
Like most stoners, I love to eat, but I am lacking in the baking skills department. We reached out to Heidi Millerick, baker and owner of Sugar Bytes Market, to help us create our stoney apple pie recipe. Together, we crafted a recipe that's easy for even the most inexperienced canna-chef!
For this recipe, we will be using cannabis-infused butter in our pie filling.
To infuse my butter, I used distillate concentrate. Distillate is a concentrated form of cannabis that involves isolating the THC via a hydrocarbon or CO2 extraction process. Once that happens, the oil is further distilled to purify the THC. The result? An oil that's "activated," meaning you can eat or cook with it!
I recommend using Pearl Extracts' distillate in their syringe-style refills. Pearl fills those syringes with 1 gram of distillate, and this recipe for infused butter calls for just half a gram of distillate.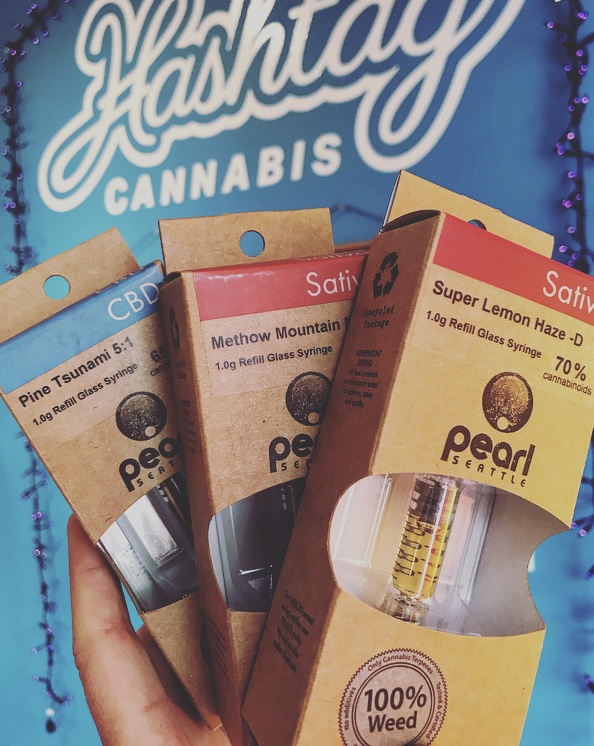 Distillate, sold in a syringe for easy mixing!
To infuse my butter with distillate, I melted one stick (8 tbsps) of butter over medium heat. Once the butter was melted, I added 0.5g of the distillate to the butter and stirred for about 10 minutes to ensure everything was homogenized. I poured my butter into a glass container and placed it in the fridge to harden overnight.
You will need to do this process ahead of time, so be sure to plan accordingly. Once your butter has hardened overnight, you are ready to get baking!
Learn how to use flower to infuse butter using this recipe that we published in February 2018: www.seattlehashtag.com/blog/2018/2/14/how-to-make-cannabis-infused-butter. Try any of our shake or trim to infuse your butter for a high-value high!
Stoney Apple Pie
Serves: 6-8
Ingredients:

2.5-3 lbs. Granny Smith apples

3-4 tbsp. infused butter (I used 4 tbsp., but if you want less liquid [and less potency!] in your pie, 3 tbsp. is fine)

1 ½ cup brown sugar

1 ¼ tbsp. cinnamon

1 ¼ tsp. nutmeg

2 tbsp. cornstarch

½ lemon

1 egg

2 premade pie crusts

Steps:
Preheat oven to 425°. While oven is preheating, peel and slice your apples into thin slices, and squeeze the lemon half over the apples to prevent browning.

In a skillet over medium heat, combine apple slices, butter, cinnamon, nutmeg, and stir. Slowly add the cornstarch in little by little, stirring as you go.

Once the sauce is brown and thick and apples are softened but still maintain some snap, remove from heat.

Place one premade pie crust in the bottom of a pie pan, and add your apple filling. Add your top pie crust, making sure you add slits or cutouts to allow the steam to escape while baking. If you're feeling extra fancy, get decorative and go with a lattice pattern or some other creative design! Finish with an egg wash over top crust.

Place pie pan in the center of the oven rack, and bake for 25-30 minutes or until crust is golden and flaky brown.
This infused apple pie is the perfect dessert to bring to your next stoner-friendly party!
And if you're in need of uninfused treats, Sugar Bytes Market (look at their gorgeous munchies on Instagram!) creates delicious desserts (and custom orders), serving the greater Eastside area. Use coupon code HASHTAG when you order online from Heidi for 5% off, plus free delivery!