High for the Holidays: Gift Guide 2018
by Christine Bryant, marketing director
My dear friends, did you know … it's officially legal to give weed as a gift in Washington state? Come in to the Hashtag dispensary closest to you, and finish up that holiday shopping list!
We have printed checklists of our Gift Guide 2018 in both stores, ready for you to use for all your gift-shopping needs.
Or, print one yourself! Click on the handy image below, open in a new tab, right-click the Gift Guide image, and then "Save Image As" to download and print your own printable checklist!
This simple four-piece grinder is a huge step up for the smoker who's been using their fingers for years. It even has a kief catcher!
LighterBro multi tool ($18)
Once this goes onto their lighter, they will never lose their lighter ever again. With miniature tools that are really helpful for the needs of daily smokers!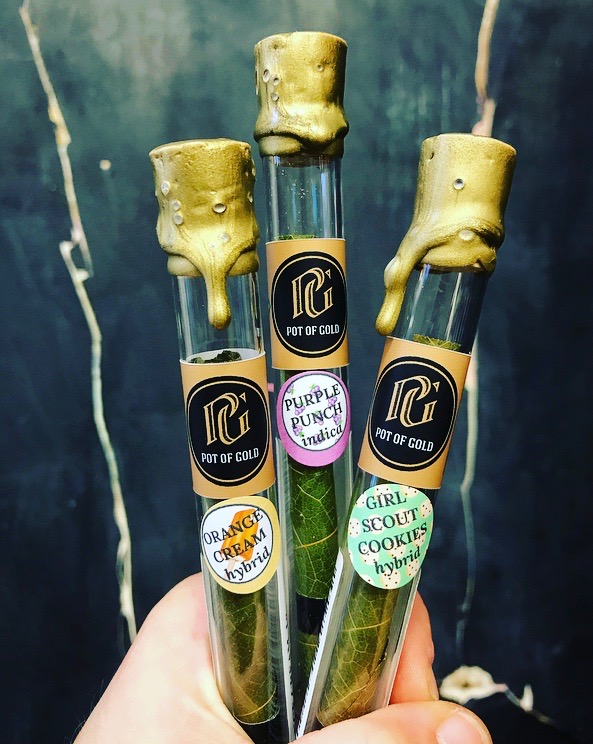 Pot of Gold palm leaf blunt ($16)
Wrapped in a palm leaf with a corn husk as a crutch, there's no way they've ever smoked a joint this special.
Rogue Raven
CBD bath bomb ($15)
Lavender, CBD, and a nice, relaxing bath … the perfect gift for that loved one who doesn't want to get high, but really needs to relax!
Two delicious, creamy, buttery caramels for $10 make the perfect stocking stuffer.
Beautiful Burns rolling papers ($10)
Special occasions call for special smokes, don't they?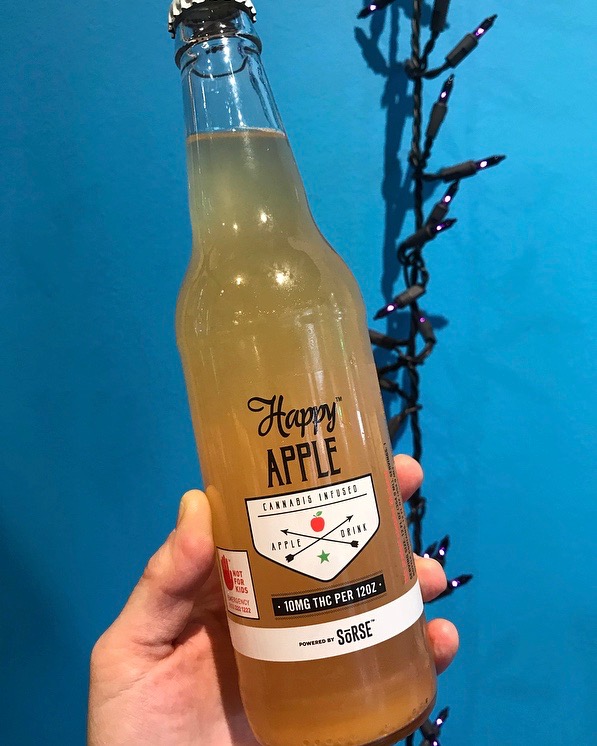 'Tis the season for spiced cider, cold or hot … why not with 10mg THC perfectly blended right in?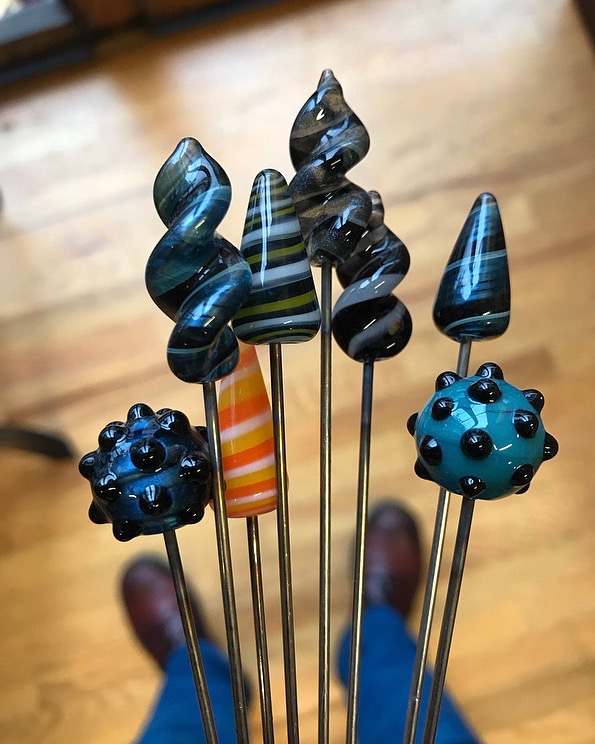 Poker, handmade by Green-Eyed Glass ($8)
Maybe they use a paper clip, or their finger, or a stick to poke their bowl. Upgrade them to this handmade poker adorned with a beautiful blown glass topper, made by glass artist Green-Eyed Glass right here in Seattle!
Verdelux dark chocolate orange 10pk ($42)
If only everyone's favorite holiday chocolate orange confections also got us high … Verdelux is making our sweetest dreams come true, with 10mg CBD and 10mg THC in each dark chocolate infused with delicious orange.
Saints multi-strain joint pack ($40)
Five joints, each made from a different strain of top-shelf Saints flower, color-coded with their strain name, and in a gorgeously printed, reusable, collectible box with custom art by Jimbo Phillips. Our staff's favorite box of joints, hands down.
That friend who needs all things glitter? They need this pipe. The clear glass is filled with glycerin and glitter for a trippy, face-melting way to get high.
Fairwinds CBD Companion tincture ($39)
This human-safe tincture offers a ratio of 5 parts CBD to 1 part THC, designed to help our animal friends feel their best. With vegetarian bacon flavoring added, it's also great in a Bloody Mary! A great gift for the animal-lover in your life.
Green Revolution Beauty Sleep tincture ($39)
Insomnia, restless sleep, the general stress of our busy lives … what if cannabis could help your loved one get the rest they need? We adore Beauty Sleep for our own use and highly recommend it.
Fairwinds Digestify tincture ($36)
Part of the Essential tincture series by Fairwinds, their Digestify tincture is fortified with essential oils and terpenes. This high-CBD, high-THCA product is low in THC and was designed to help each of us live our best lives.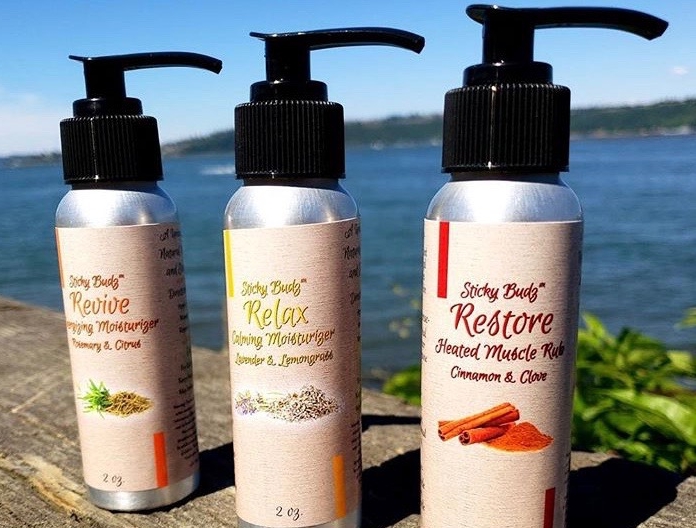 Sticky Budz 1:1 CBD lotion ($32)
Available in calming Relax (lavender and lemongrass) or warming Restore (cinnamon and clove), this infused lotion by Sticky Budz is a great choice for the older person in your life! The pump bottle makes dispensing really easy on hands with arthritis.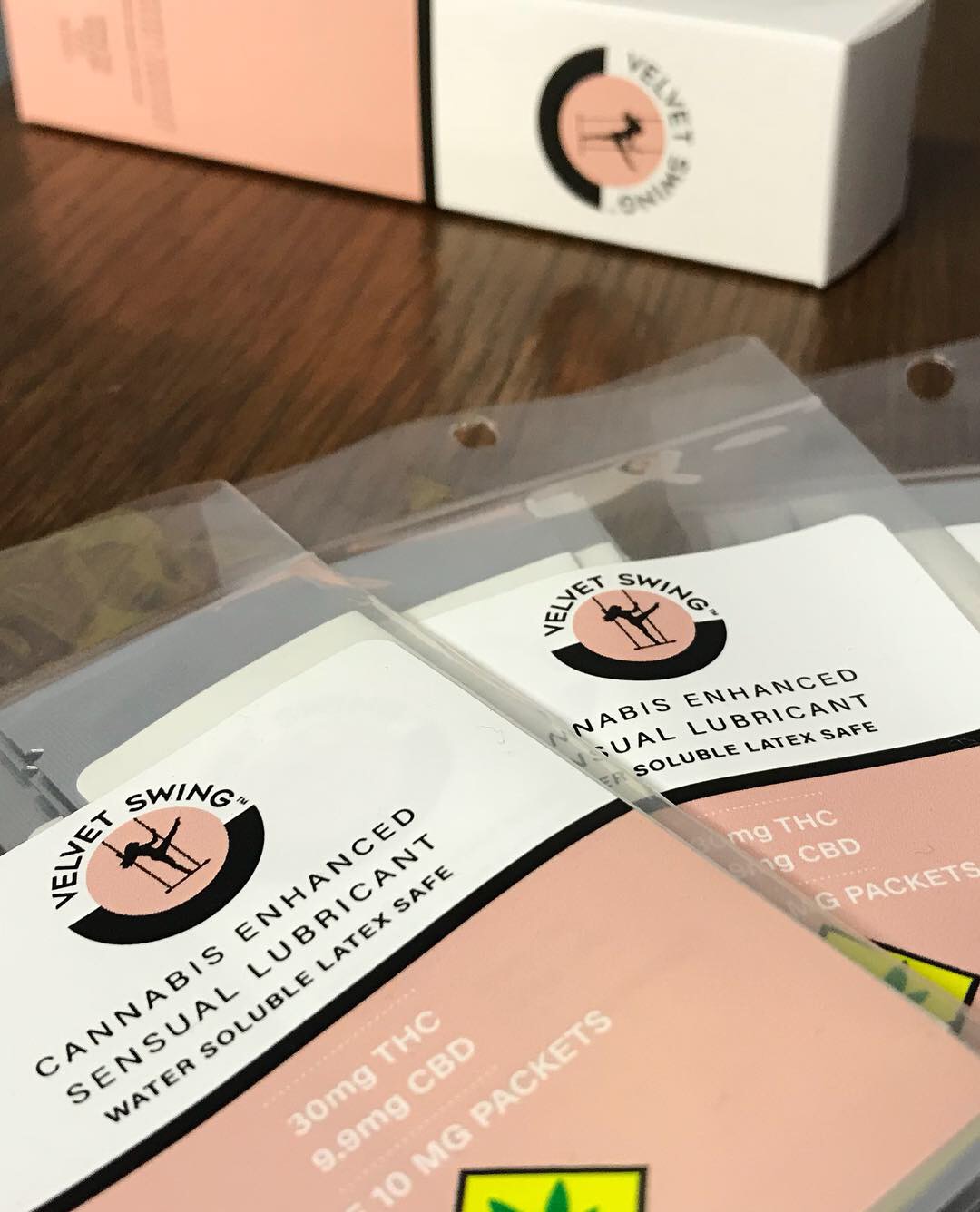 Velvet Swing infused lubricant ($32)
This sensual oil makes sex more stimulating, hands down. Plus, Velvet Swing is latex safe! Apply to the vagina or anus externally and internally, wait 30 to 60 minutes, and enjoy your elevated experience. Additional lube recommended!
XLB large frit spoon pipe ($30)
Beautiful, hand-blown pipes in every color of the rainbow, made with love by XLB Glass of Mount Vernon, Washington.
Large wooden dugout ($28)
The convenience and portability of the classic dugout cannot be beat! In multiple shades of natural hardwoods, our dugouts include a one-hitter, a poker to clear it of any clogs, and a stash spot for your ground flower. The magnetic closure keeps it tidy!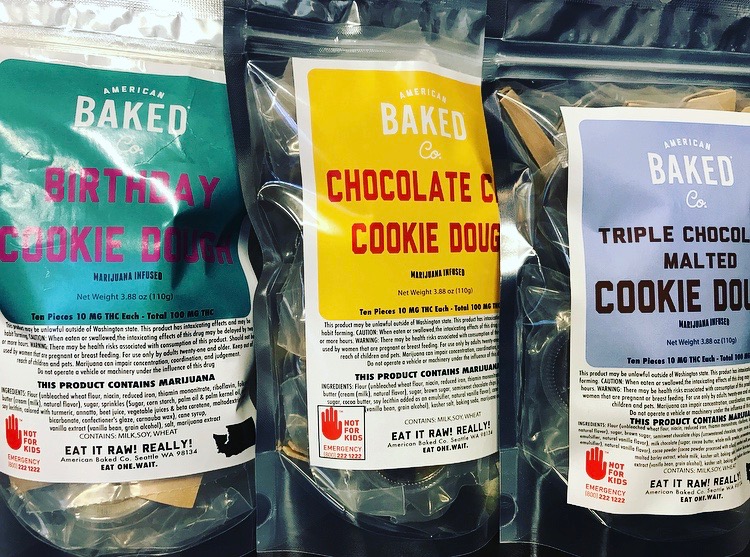 American Baked Co.
cookie dough 10pk ($27)
Raw cookie dough. Safe to eat, but also good for baking. Precisely blended with 10mg THC in each container, with adorable bamboo spoons included! There is no more unique sweet edible, trust us.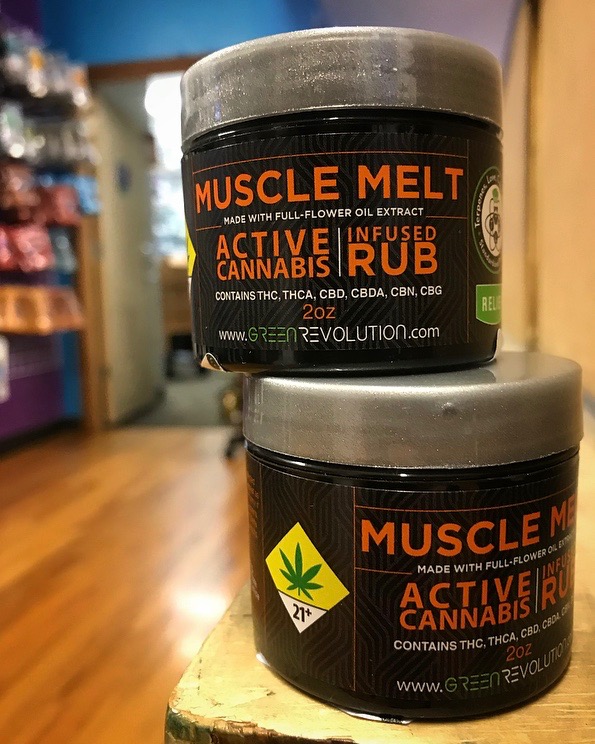 Green Revolution Muscle Melt infused rub ($25)
This infused topical includes capsaicin to warm up the part of the body where it's applied, increasing blood flow to that specific area and boosting muscle recovery. Great for the athletes in your life!
Motion vape battery ($24)
The newest battery offered by Pearl Extracts, the Motion vape battery vibrates in your mouth and fits in the palm of your hand. With long lasting battery life and a magnetic connection to the vape cartridge of your choice, it's an excellent gift for your friend who loves to discreetly vape their weed.
What to get the person who has everything? Seven grams of the best weed they've ever seen. Skörd offers a spectrum of strains, so you know you'll find the kind of high they crave.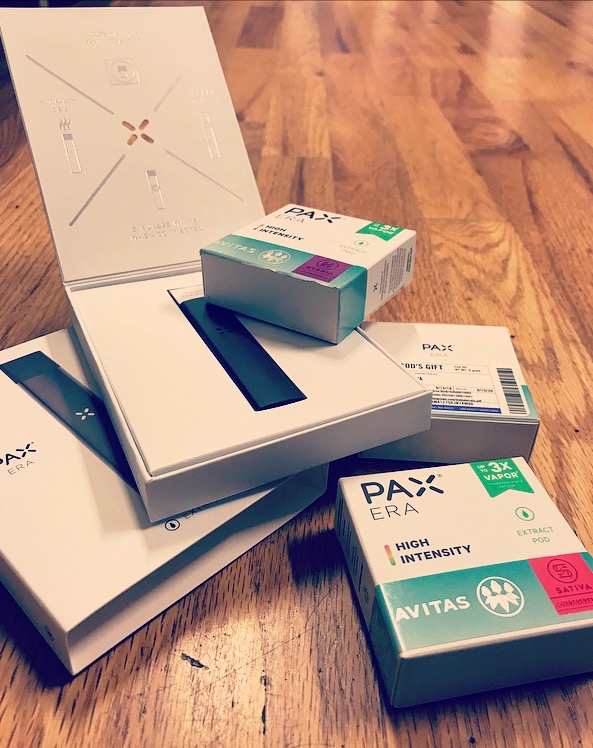 Pax Era vape battery
& Avitas Pax Pod ($94)
The sleekest, most discreet way to vaporize premium Avitas oil cartridges. This is the iPhone of vaporizers. Sync it to your phone, give it a name, and adjust the temperature to your particular liking. Trust us, there's no going back to regular cartridges.
SourceOrb4 portable dabber ($85)
If you, or someone you love, enjoy dabs, you know first-hand how much hardware is required to take a dab. But … what if, rather than a rig and a torch, you could just use one piece of equipment? Enter the SourceOrb 4. Your friend who dabs can take those dabs on the road!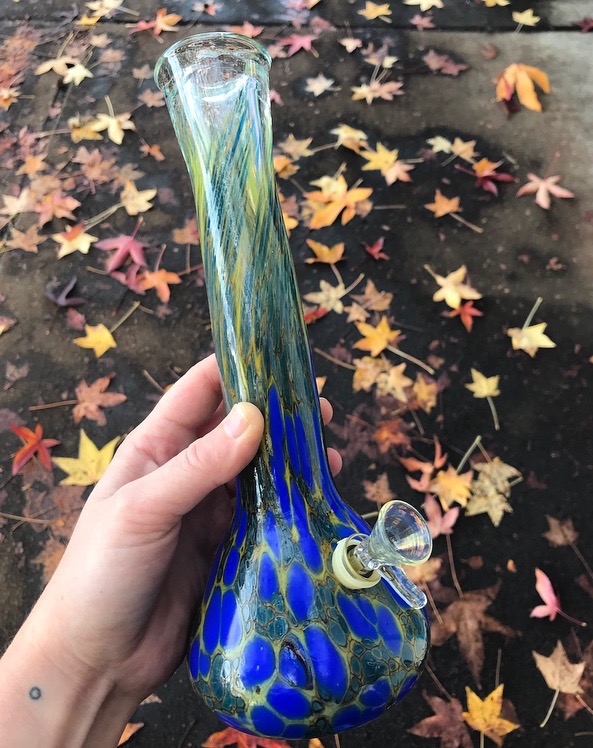 Hand-blown glass, huge range of colors, and great functionality make Special K's bongs a favorite among our budtenders. Who doesn't need a new bong?
Mr. Moxey's Good Cheer
2:1 CBD Peppermints ($55)
The most popular edible in Washington state, now microdosed with just 2.5mg of THC and 5mg CBD per mint, and in a sweet, special holiday tin! This low-dose edible is a great gift for anyone looking to stay in good cheer this holiday season.
Green-Eyed Glass bubbler ($55)
The water filtration of a bong, with the portability of a pipe, bubblers hit all the right notes. Handmade right here in Seattle by Green-Eyed Glass, these bubblers are sure to please in a range of colors.
Seattle's Private Reserve 28g
in limited edition curing box ($399)
An ounce of crystal-covered, fluffy, flavorful flower in an opaque jar, set inside its own wooden curing box, complete with humidor. For the connoisseur who requires the best and most novel presentation of cannabis around.
Gold Leaf Gardens 28g ($378)
Whether you choose RudeBoi OG, Pina Colada, or the classic, proprietary Peppermint Cookies, Gold Leaf's ounces of weed are grown with aloha that comes through every toke.
Pax 3 flower & concentrate vaporizer ($350)
This one piece of hardware does it all: vaporize your ground flower, or vaporize the concentrate of your choice. Sleek, simple, elegant, and elevating.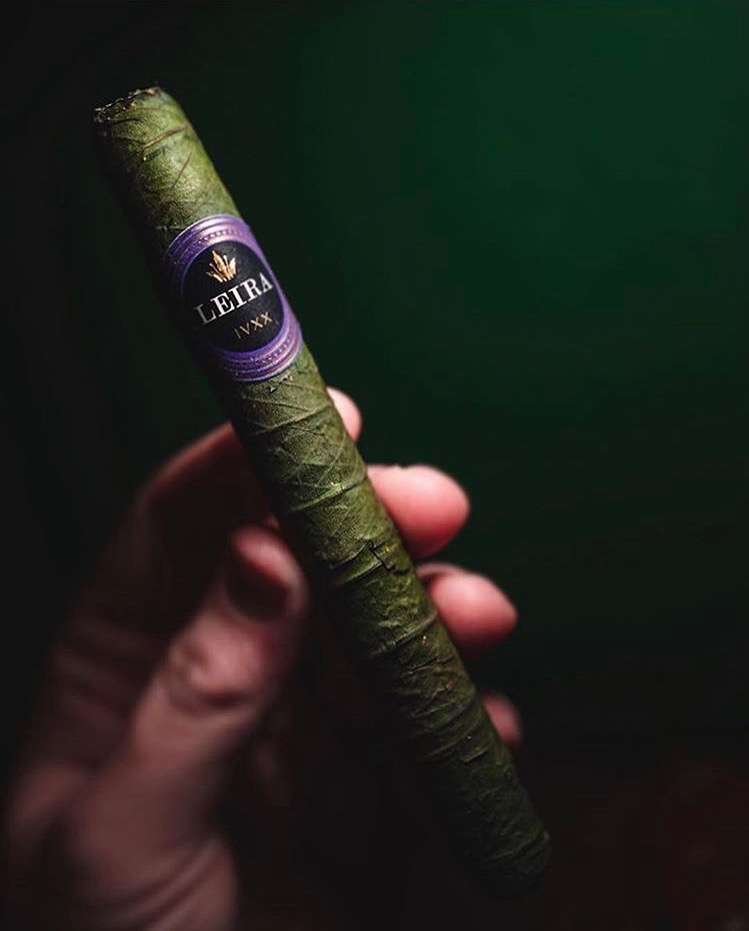 Gold Leaf Gardens & Leira cannarillo ($105)
Four grams of Gold Leaf's flower and a half gram of rosin made by Polar IceTracts, each cannarillo is hand-rolled in cannabis fan leaves by the Leira family. With a burn time of 45 to 60 minutes, this is just the thing for the highest of holidays.
Volcano flower vaporizer ($750)
This medical-grade flower vaporizer is the perfect mix of high quality, ease of use, efficiency, and precise digital control. We have just one left, at Hashtag Fremont only!