What to Smoke for TUFFEST '18
by Tiffany Wan
TUF is a collective that focuses on uplifting marginalized folks, including people of color, women, queer, trans, and gender nonconforming identities. We challenge white-cis-male power structures within electronic music, art, and media by creating spaces to connect and collaborate.
Over the past two years, TUFFEST has hosted forward-thinking artists like Bay Area hardware techno artist Russell E.L. Butler, Bolivian-born trans producer and poet Elysia Crampton, Canadian deconstructed club producer x/o, and experimental noise composer/performer Monika Khot. We've taken pride in being able to showcase a diverse range of musical sounds, and this year is no exception.
In anticipation for the third annual TUFFEST, TUF members have matched our musical artists with flowers pairings from Hashtag, for the ultimate multisensory experience.
TT the Artist is the self-anointed "Club Queen" who's found incredible success with her custom blend of Baltimore club, rap, Miami bass, and EDM. She's showcased her unique take on high-energy party music at festivals like SXSW and Coachella. Most recently, she wrapped up filming on a documentary about Baltimore Club called Dark City: Beneath the Beat, which is set for a Spring 2019 release.
Pair with ...
Thrifty's Pineapple Express
The smell is likened to fresh apple and mango, with a taste of pineapple, pine, and cedar. This hard-hitting sativa-dominant hybrid provides a long-lasting energetic buzz, perfect for afternoons in the park.
QPOC / DREAMCORE / BABY TECHNO
Seattle-bred artist Nightspace (aka Bailey Skye) conjures dark and dreamy electronic soundscapes that seek to capture their experience as a nonbinary person of color. An active voice in New York City's underground music scene, their work rails against the dominant hierarchies of music and structural racism.
Pair with …
Kiona's Corinto Budder
An absolutely stunning plant in terms of her positive, energetic effects and visual beauty. Patiently cured for eight weeks on-stem, Corinto Budder smokes with a rewarding citrus and floral perfume.
Fleshy electronic ancestral incanting. Transcendental noise pop.
Pair with …
Emerald Jane's Day Tripper
Day Tripper is an unexpectedly lightweight hybrid that pairs well with active and creative hobbies. Its motivating effects come with a fresh, clean aroma and can be enjoyed morning, afternoon, and night.
Oryx White has been DJing and making music since she was a teen, hosting her own radio show by the age of 16 and later running the Olympia-based party Dark Disko for five years. Her latest project, Scylla, is a white-gloved attempt to tame raw chaos and distill it down into club-ready techno.
Pair with ...
Doctor & Crook's Alien Kush
This strain leaves you feeling a little spacey, as this mostly indica hybrid touches down in the brain first, with active, sometimes psychedelic effects.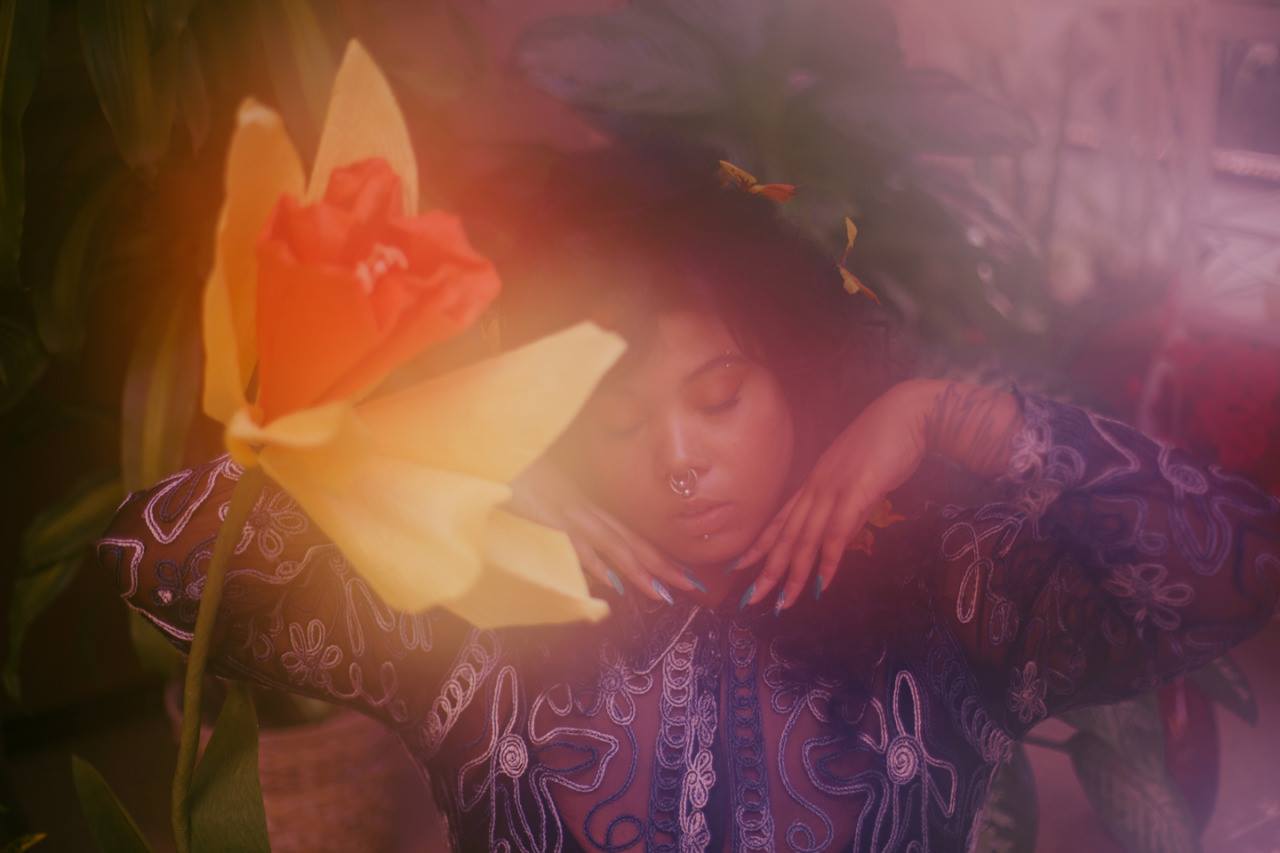 If you haven't heard of multifaceted vocalist and rapper Guayaba by now, you've got some catching up to do. Beguiling and seductive at almost every turn, her music has an unmistakably raw and emotional feel. Confessional, often bilingual lyrics are anchored by a diverse collage of sounds, from stuttering hip-hop beats to delicate Spanish guitar melodies.
Pair with …
Empire's Blueberry Athena
The Athena high is just as sweet as it sounds, with a strong, clear-headed high that's complemented by a relaxing body buzz which provides substantial pain relief. It starts with an energetic mood-boosting lift with a sense of clear-headed focus.
Listening to the music of Lilac is akin to being in a waking dream, enveloped by softness and iridescence. Deliberate yet delicate, their spellbinding vocals weave through a mesmerizing mix of fuzzed-out synthesizers and bombastic drum beats.
Pair with ...
Kiona's Cedar Black Haze
The high is strongly positive and euphoric, and comforting without being sedative. There isn't a single aspect of this release that isn't absolutely stellar and five stars.
Browse the Hashtag menu online, and place an online order to reserve these strains for pick-up in Fremont or Redmond before you head out to listen and dance!
Hashtag Cannabis is a proud sponsor of TUF Til Dawn '18, a 21+ party held after TUFFEST '18 in Judkins Park.