Self-Care with Cannabis
by Jax Keating, outreach and social media coordinator
Life can feel like you're locked in the seat of a rollercoaster ride. Sure, it can be full of fun, but the constant moving, coupled with non-stop ups and downs, can leave you feeling drained and depleted.
If you're like me, you may rely on that end of day toke to alleviate those day to day stresses.
But with all this self-care talk, is there more that we cannabis users could be doing intentionally to curb the drudgery of daily life and promote our personal wellness? It may sound indulgent, but self-care is crucial for our physical, emotional, and mental well-being.
Inspired by Tiny Buddha, here are a few suggestions of small intentional activities paired with some of our favorite cannabis products provided at your local Hashtag dispensary! Enjoy, and happy smoking!
Self-Care for the Mind with Cannabis


Goof around with Alien Asshat.
This hybrid from Sky High Gardens launches off with a euphoric blast followed by a social cerebral stoney high, great for goofing with friends or solo!
Watch clouds with Lodi Dodi.
This sativa-leaning strain by Soulshine gives you a bump of energy, sparks your creativity, and offers the perfect cerebral buzz for laying back and watching those Seattle clouds roll through.
Fix that shit with Acapulco Gold.
We've all got that tiny project around the house we've been putting off. Take a puff on some Acapulco Gold from Vashon Velvet, and get to work on cleaning out that junk drawer.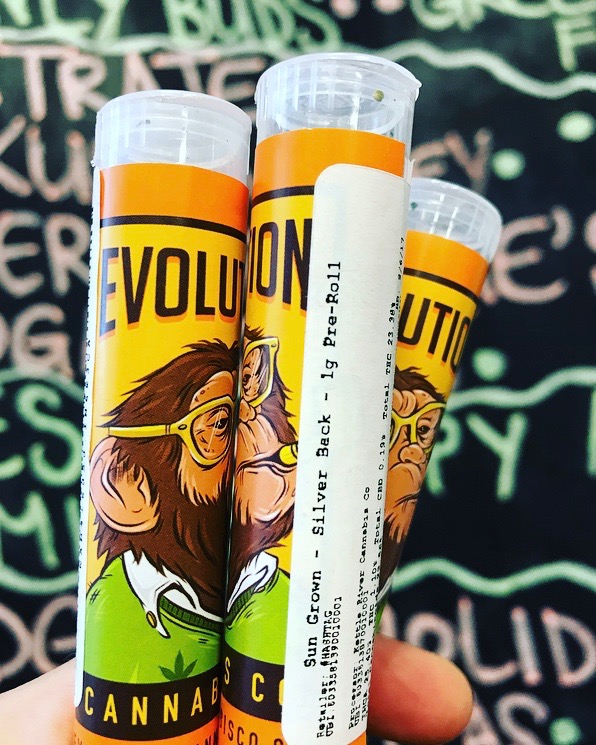 Make time for a mini-meditation with Silver Back.
Brought to us by Evolution Cannabis, whether you're smoking or vaping, Silver Back's euphoric and relaxed effects make it a great hybrid for taking time to sit with yourself and clear your mind.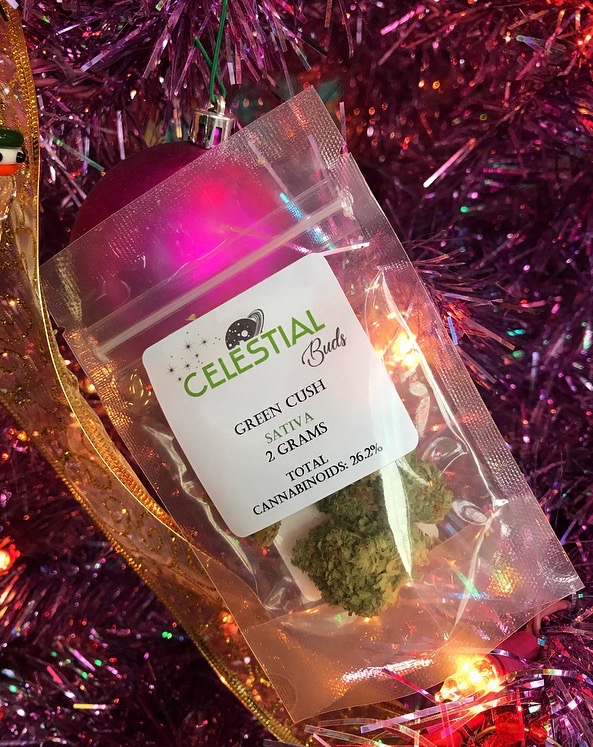 Declutter your space with Green Cush.
Known for its invigorating energetic effects and mental buzz, Green Cush by Celestial Buds is an ideal companion for a focused clean up of your space, no matter how big the mess!
Unplug with Obama Kush dabs.
Allow yourself an hour to unplug with a dab of Obama Kush crumble from Emerald Jane's. We know putting your phone on airplane mode takes a lot of willpower. Our stoner approach to make things easier is to take a dab. An indica-dominant strain like Obama Kush is a double dose of mind and body relaxation, nearly guaranteed to make it a lil' more difficult to check your social media status.
Self-Care for the Body with Cannabis
Dance off with Hawaiian Diesel.
Shake what your momma gave ya with a toke of some Hawaiian Diesel. Sociable and energetic, taking a drag or two off a Hawaiian Diesel pre roll will have you laughing it up and letting loose on the dance floor.
Stretch those muscles with a little AK-47.
We love feeling stoned, but our muscles shouldn't feel like rocks. Vaping or smoking some AK-47 from Puffin Farm before a short stretch is relaxing for the mind and the body!
Toke a Tangie OG joint, and go on a jaunt.
Take a short stroll or run with Tangie OG from Kush Valley. One of our favorite and most delicious strains, it's known for its incredibly uplifting effects as well as euphoric and happy feelings overall, making it an excellent pick for a short jaunt and joint outside!
Get down with yourself and some Velvet Swing.
That's right, pleasing yourself sexually is one of our favorite self-care habits, and for folks with vaginas, Velvet Swing, a cannabis-infused personal lubricant, can be just the right extra-special something when applied about an hour or more before climax.
Be still, silent, and sip on some Pineapple Chunk smoke.
With a cult-like following, Pineapple Chunk by local grower Sky High Gardens is known by our staff for its powerful pain-killing and stress-relieving properties. Take a drag on this, and drift off.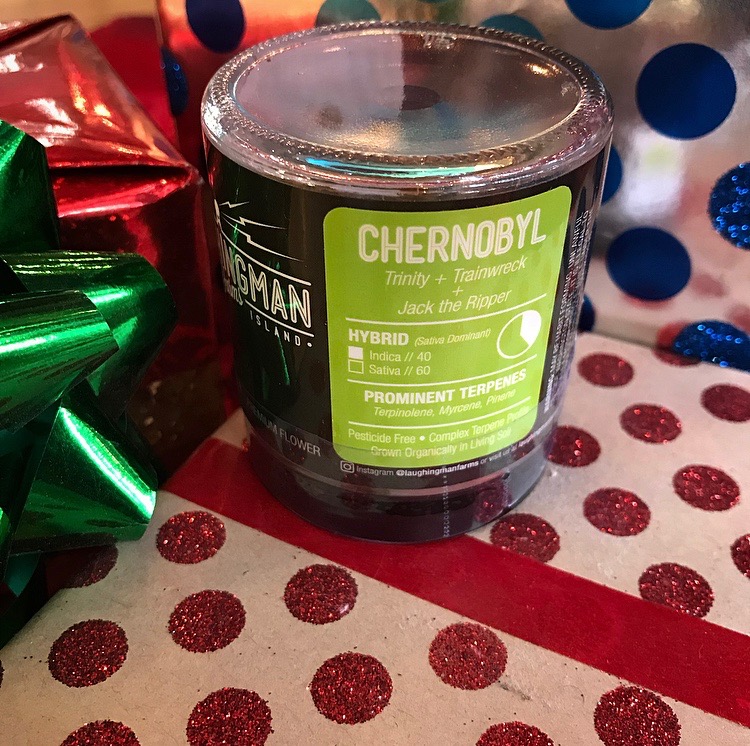 Find yourself 15 minutes in the sun with some Chernobyl.
With a strain name like Chernobyl, you may not feel inclined to sit and relax outside, but trust us, taking a few puffs of this dreamy sativa leaner will leave you with long-lasting cerebral effects, a cheerful mood, and a relaxed mindset, ready to take on the world (or your front stoop).
Relax with a lavender CBD bath bomb.
Rogue Raven has created our ideal bouquet wrapped in the form of a CBD and lavender bath bomb. Run yourself a tub of warm water, drop one of these in, lay back, and let your senses take hold.
Laugh, laugh, laugh with Laughing Buddha.
You've probably heard, "laughter is the best medicine," but did you know that laughing actually decreases stress hormones and improves your resistance to disease by increasing immune cells and infection-fighting antibodies? Laughter also triggers the release of our body's natural feel-good chemicals which promote our overall sense of well-being. If you're looking to promote some laughter in your life, take a look at Laughing Buddha, guaranteed to give you the giggles.
Enhance nap time with Larry OG.
For some folks, a 10-20 minute nap can make a huge difference when you need to recharge in order to take on the rest of the day, but you don't want to be down for the count and in bed for too long which can leave you feeling groggy. We recommend a nice, gently relaxing hybrid like Dawg Star's Larry OG with its soothing body buzz that rests the eyes but doesn't couch-lock the body.
Self-Care for the Soul with Cannabis
Take yourself on a "beauty scavenger hunt" with Lemon Sour Diesel.
Another classically popular strain known for its fast acting energizing and dreamy effects, smoking some Lemon Sour Diesel by Emerald Jane's has been purported to relieve stress, pain, and fatigue, making it a perfect choice for adventuring around and finding otherwise unnoticed items of beauty and interest.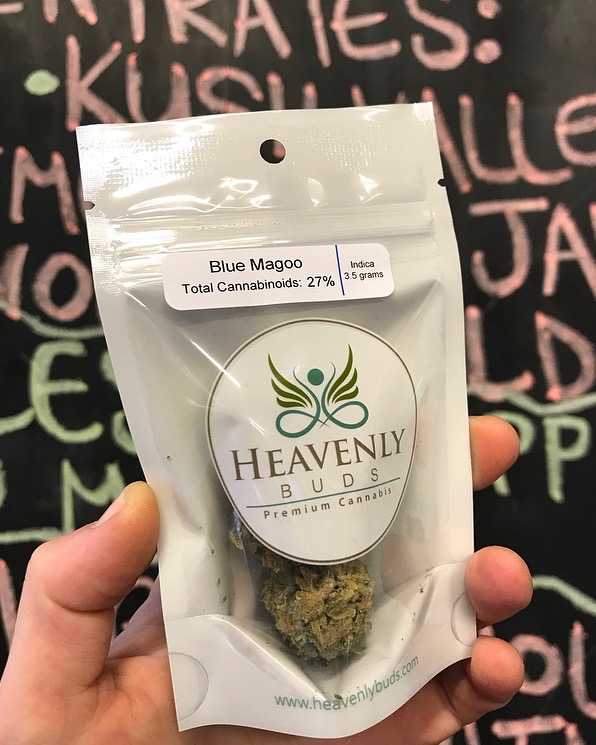 Check in with your feelings by smoking some Blue Magoo.
Heavenly Buds just released their Blue Magoo, an all-around feel-good strain. Said to combat pain, nausea, insomnia, anxiety, and appetite loss, this is a nice flower to take a drag off and just check in with yourself.
Journal with the help of Jack Herer.
Time to journal and write out your thoughts with Jack Herer, grown by Falcanna. Perfect for stimulating creativity and conversation without paranoia, this flower is one of the best choices for filling pages in your journal.
Treat yo' self with a Pot of Gold blunt!
Sometimes you just need to do something nice for yourself, and we recommend giving one of our new palm leaf wrapped blunts from Pot of Gold a smoke. Available in multiple strains, there's one right for enhancing any mood!
Take a spa day at home with infused lotions.
Sticky Budz's infused topicals are a great choice when you're looking for all the relaxing benefits of cannabis without the psychoactivity or high. With scents like lavender, cinnamon, & rosemary as well as CBD:THC ratios, Sticky Budz infused lotions are sure to be soothing and relaxing.
So come on in to either Hashtag dispensary in Fremont or Redmond, and ask your budtender to help you choose the weed that's just right for taking care of yourself today.